FEEL WELCOMED & COMFORTABLE AT
Calgary's Trusted Drugstore
for Over 30 Years
Corner Drugstore is a family-owned, independent community pharmacy that is committed to providing you with the best possible services and products. Our services are based on your needs and we offer customizable options. When you need a pharmacy in the Calgary area that you can trust to provide you with the items you require, come and visit us.
Same-day prompt
Rx delivery
Mobility or illness issues? Get same day medication delivery without having to leave your home. Call us before 3:30 pm for this service.
With personalized home visits, you can be rest assured to receive the care and attention you need, without any delay or inconvenience.
Customized
personal service
As a family-owned business, our aim is to provide you with the kind of service that will make you & your family happy.
Top 3 Excellent Pharmacies in Calgary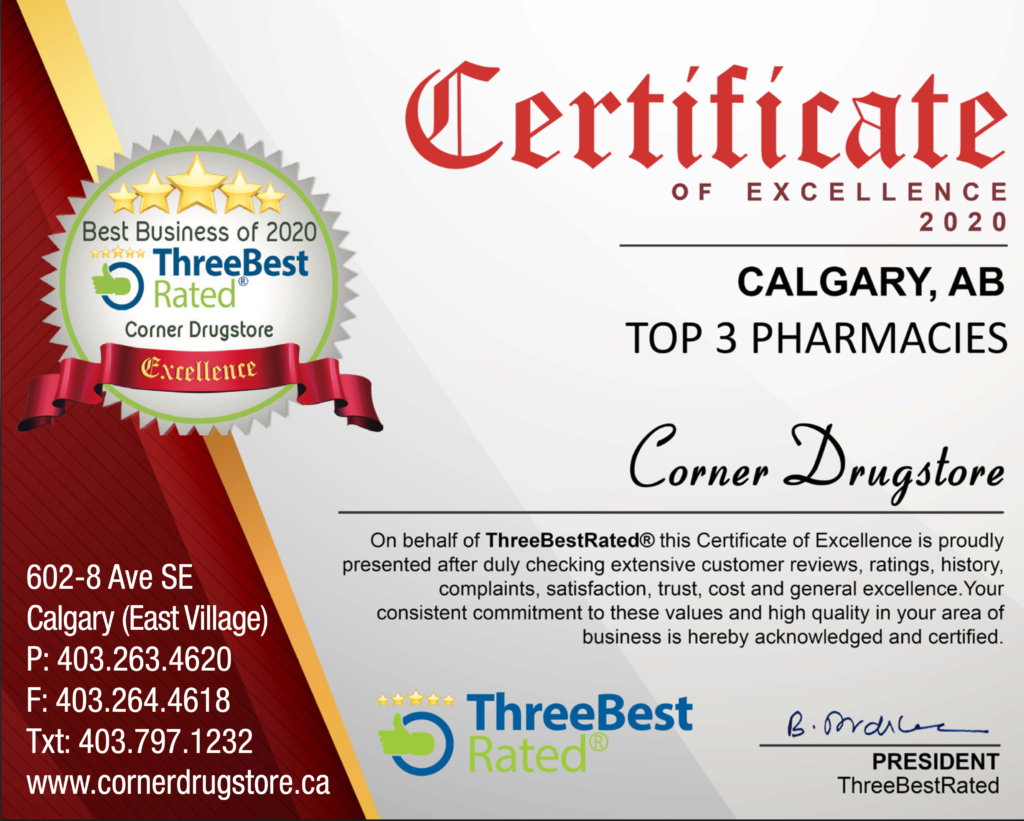 We are a small store that aims to have a personal feel. We have a connection with people and have built up a great relationship with our clients, many of which travel from outside of Calgary to see us. We belong to
PharmaChoice
, a Canada wide co-op of 1000+ indepdent pharmacies.
We offer a range of services, such as prescription delivery and home medical visits.
We carry many products from stamps and cards to health supplies and first aid kits.
At Corner Drugstore we offer free flu shots, vitamin clinics, and more.
Protect yourself and those around you with our free of charge flu shot services. The vaccination process is a quick and simple procedure that guarantees the safety and health of yourself & the community. Join us in our shared effort to promote good health practices. 
Appointments generally in the middle of October every year.
Vaccination clinics for businesses are also available.
For more than 30 years, Corner Drugstore has been an integral part of our community, and we're thankful for your ongoing support. We're dedicated to giving back, which is why we're proud to work with and support two important Calgary organizations: Carya and Trinity Place Foundation. We sponsor events like Christmas dinners, bingo nights, family gatherings, and luncheons to bring people together.
Carya has been supporting families and communities in Calgary since 1910, providing counseling, education, and more. Our involvement helps them to build stronger relationships and support with local families. We're also proudly committed to Trinity Place Foundation, which aids independent seniors with housing and community resources.
At Corner Drugstore, our mission is to nurture a connected and caring community through active engagement and support. By donating door prizes and sponsoring events, we do our best to never forget where we started, and to always give thanks to the people who have made us successful.
Great drug store. A little expensive though.
This pharmacy has always been great. Staff has always been friendly. Never ran into any problems here. It's been a big part of the East Village community.
Moved to Calgary in November 2022 and needed somebody to administer allergy shots. This pharmacy gave me the allergy shots without me ever filling a prescription there. Always very kind and makes time for me (even on a busy day) as I come weekly for the allergy shots. Would recommend this pharmacy to anyone!
Family-owned, super-friendly.
Almoonir Dewji
2022-03-12
Great service.
Great place to quickly fill prescriptions, staff are very friendly and helpful.
A great pharmacy service with professional people working there. I merely send an image of our prescription and the medications are usually dropped to our doors on the same day free of charge. In a few circumstances, I sent the prescription after their delivery person left the store and they called him to return and deliver our prescription the same day. It has always been above and beyond our expectation. Thank you for your great service.